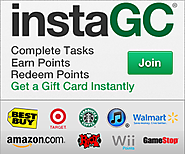 InstaGC is one of the best sites for making extra money online and has been around since 2011.  They offer a boat load of free offers and pay by check, direct deposit, paypal cash or a gift card of your choice.  InstaGC has a large number of online gift card codes that are immediately available upon request.  If you request as Amazon gift card, you only need a low $1.00 minimum to instantly cashout for an Amazon gift code. Paypal you can cash out any anytime and it is immediate as well. InstaGC is the #1 recommended GPT Site. (at the moment)
DollarClix is an established GPT (Get-Paid-To) site providing a wide array of surveys and other free paid offers that can be completed to earn cash and points.  These points are redeemable for gift cards and other items.  There are also several upgrade options that make it almost impossible to not make money from this site.  DollarClix offers an excellent online earning opportunity and should definitely be visited by anyone looking to make extra money online.
 3. Swagbucks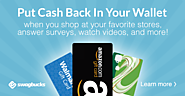 Swagbucks allows you to visit sites,watch videos and earn cash quicly and easily. There's new videos, sites and other offers added constantly and you can cashout when reaching just $5 in your account. They pay with gift cards, paypal, etc. and you can also request a check as well. Swagbucks is always adding offers to earn additional cash.
Neobux is the best pay to click ads site as well as offering other free reward options.  Since the company has been around since 2008 and is so big there are always ads to view.  Neobux pays by PayPal and they pay daily upon request to your PayPal account. They offer a low $2.00 minimum to request a cash out to your account. Recommended
Inbox Dollars is a good place to get paid for reading emails as well are a host of other free offers. Founded in 2000 InboxDollars is an international company that pays real cash to millions of members for their everyday online activities, such as reading emails, taking surveys, playing games and signing up for offers.  Amount to request a payout for InboxDollars is $30.00 although with the many offer available this can add up fast.
Earnably is one of the easiest reward and cashback sites to earn some extra money and gift cards online.  Just complete offers from their over 30+ partners to earn points.    There is also an incentive on Earnably to reach certain goals to boost you income from their site.  Points can be redeemed at any time with a minimum of $2.00 for paypal cash, amazon gift cards or bitcoin payments.  This new comer is quickly becoming one of this sites favorite GPT site.
Superpay.me pays daily upon request to your PayPal account. There's only a very low $1.00 minimum to request a cash out.  Superpay.me is probably the best international site for making money online through surveys, and 100% free offers.
Fusion Cash is an interesting site and pays you cash to try products and services as well as take surveys.  As with other PTC sites it is completely FREE to join. A minimum balance of $25 paypal, check or direct deposit is required to cashout but they offer a $5.00 sign-up bonus deposited into your account instantly to get you started though.  Finally Fusion Cash has an A+ rating with the Better Business Bureau.  Not a bad site to check out at all.
ClixSense has been around since 2007 and is one of the most popular GPT/Reward sites.  With ClixSense you get paid for browsing websites (up to $0.02 for each visit.)  There is no risk to register for free and begin immediately earning. Payment is made daily upon request to your PayPal account.  There is a reason ClixSense site is still going strong after all these years.
12. CashCrate
CashCrate you can start making money right away by completing offers, taking surveys, playing online games and shopping online.  There is a minimum $20.00 payment amount with CashCrate but if you make this a steady part of your day this can be obtained.
13. GlobalActionCash
GlobalActionCash is a worthwhile GPT site and includes many offers such as paid surveys, PTC and more.  GlobalActionCash  offers a low minimum payment of $2.50 either through paypal, payza, western union or amazon gift codes. NICE!
QuickRewards is another solid GPT site and offers a good amount of free offers including surveys, PTC, listening to the raid paid emails and a lot more.  QuickRewards offers a low a low minimum payment through paypal and many gift certificate options.
Send Earnings was taken over by InboxDollars in 2005 and continues to be a great GPT site.   Send Earnings offer a great selection of offers including paid emails, videos, games, and surveys to name a few.   A $30. oo withdraw is required and they offer multiple gift cards, including a visa gift card or a check.